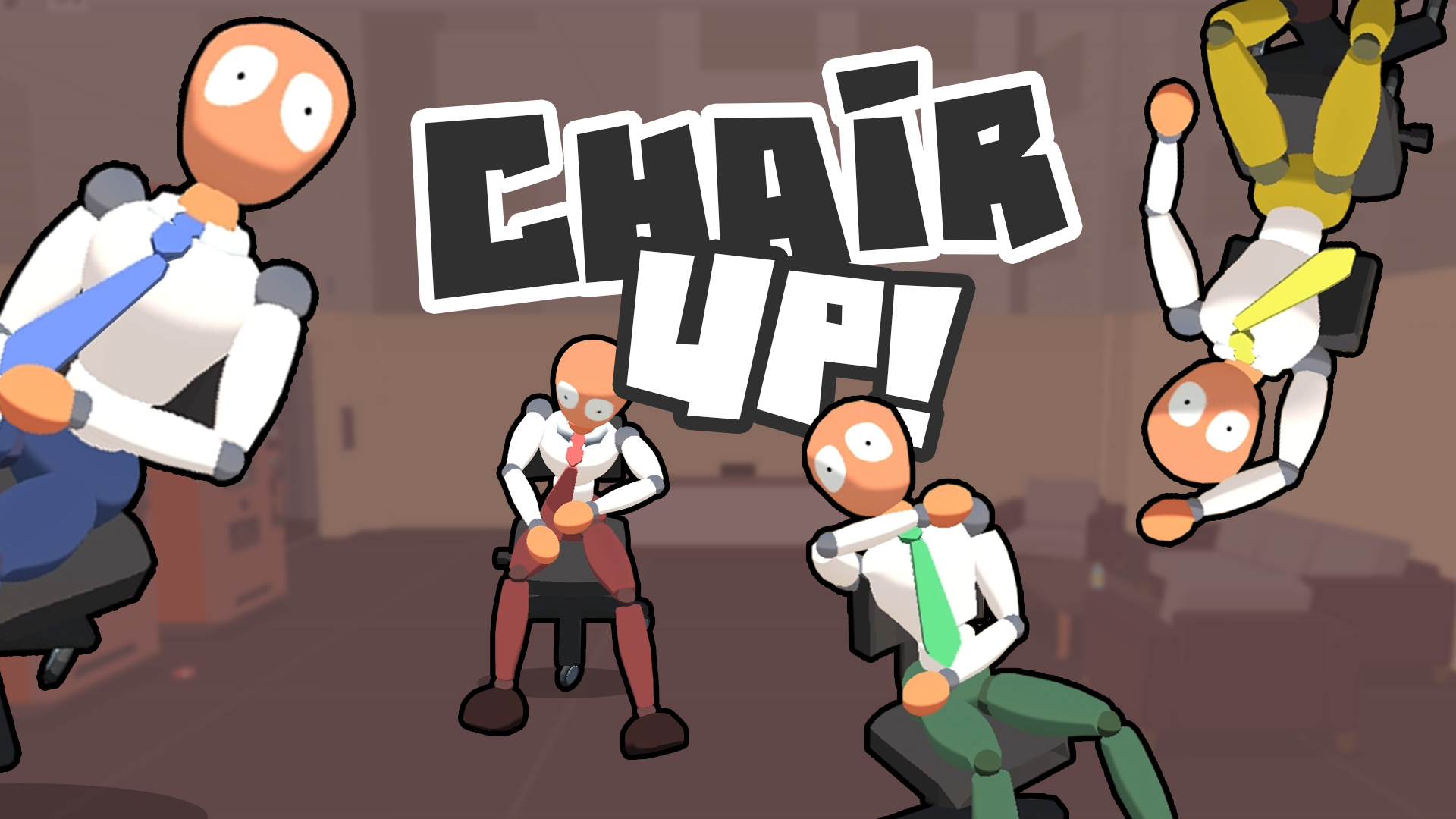 Chair Up!
A downloadable Chair Up for Windows and macOS
Version 0.20 now available!
This is an up-to-4 players physics game. Each player controls a bored office staff moving around in the offices. The staffs can only sit on the swivel chair and use their legs to kick/pull/brake their chairs.

For XBox controllers (recommended):
Use Left Stick to control left leg, and Right Stick to control right leg. (Only UP and DOWN are available)
Use Left Trigger to brake left leg, and Right Trigger to brake right leg. (When you brake one leg, the other leg can still move. You can use this skill to rotate pricisely)
Use A for confirm/ready, B for back and Start button (only Player1) for pause. .
For Keyboard:
Player1: [Q] / [A] for left leg, [E] / [S] for right leg. Hold [Z] for left brake, hold [X] for right brake. [Space] for ready.
Player2: [P]/[ ; ] for left leg, [ ] ]/[ ' ] for right leg. Hold [ . ] for left brake, hold [ / ] for right brake. [Return] for ready.
Player2 (numpad): [4] / [1] for left leg, [6] / [3] for right leg. Hold [0] for left brake, hold [ . ] for right brake. [Return] for ready.

F10 to restart.
Levels:
Level 1: Don't be Late! - players should move into the elevator to get to the office. The first player gets the most bonus. ($600/$550/$500/$450)
Level 2: Let's work! - players should try their best to answer the customers' call. When talking to the phone, the player can gain $30 per second. Players may bump into others to grab the phone. Every jumping off the bulding will reduce $150 from players' bonus.
Level 3: Magic Mop - each player has a magic mop. The area mopped by someone will be colored. The area surrounded by another color will be filled by that color. There are some items which can change players' ability. The player who has the largest area of his color wins this round.
Level 4: Parkour Time - players are having fun on the roof of their office buildings. Inside 3 minutes the player who goes furthest wins this round.
Thanks for playing! Have fun!
If you feel it's fun, please follow us. We're improving it. More levels coming soon!
If you have any good idea, advices or suggestions, please leave your message in the comment area.
----------------------------
多达4人同屏的物理游戏!每个玩家扮演一个无聊的办公室职员,通过蹬椅子寻找乐子。他们唯一的移动方式就是两条腿,通过蹬、勾或踩踏地板来控制自己的移动和旋转。
可使用XBox手柄:
左摇杆控制左腿,右摇杆控制右腿 。均只能上下移动摇杆。向上为前进动作,向下为后退动作。LT键为左腿踩地刹车,RT键为右腿踩地刹车。A键准备/确认,B键返回,1号玩家可用Start键暂停游戏。
也可以使用电脑键盘控制:
玩家1:[Q]/[A]分别控制左腿(前/后),[E]/[S]为右腿。[Z]为左腿刹车,[X]为右腿刹车。空格键为准备。
玩家2:[P] / [ ; ] 分别控制左腿(前/后),[ ] ] / [ ' ]为右腿。[ . ]为左腿刹车,[ / ]为右腿刹车。回车键为准备。
玩家2 (小键盘):[4] / [1] 分别控制左腿(前/后),[6] / [3]为右腿。[0]为左腿刹车,[ . ]为右腿刹车。回车键为准备。
F10重新开始游戏
关卡:
第一关:抢电梯。玩家需要移动自己到电梯里,按照排名先后获得出勤奖金($600/$550/$500/$450)。
第二关:抢电话。玩家需要抢夺客户打来的电话以获得工资提成,每一秒谈话获得$30的提成。玩家可以撞击其他玩家抢夺电话,也可将其他玩家撞飞坠楼(坠楼者扣除$150)。
第三关:魔法拖把。玩家拥有一把魔法拖把,通过不断移动在地板上刷上属于自己的颜色,玩家还可以通过自己的颜色围住别人来快速填充中心区域。游戏过程中还会随机刷出一些改变魔法拖把功能的道具。最终拥有最大色彩面积的玩家获胜。
第四关: 屋顶跑酷。每个椅子玩家都有一个跑酷梦!在危险天台,玩家需要发挥自己的控椅技巧来绕过障碍、躲避机关并最终到达终点。三分钟结束时,跑酷距离最远的玩家获胜!
感谢试玩!如果你喜欢这个游戏,不妨关注我们哦!
我们依然在不断开发后续关卡,敬请期待!

如果您有好玩的点子、意见或者建议,请积极在评论区留言!
Thanks for this video from @Haondoor
| | |
| --- | --- |
| Updated | 3 hours ago |
| Status | In development |
| Platforms | Windows, macOS |
| Release date | 44 days ago |
| Rating | |
| Authors | WilliamsXue, StevenC, Yunci G |
| Genre | Action, Simulation |
| Made with | Unity, Blender |
| Tags | 4-player, chair, Controller, Local multiplayer, Multiplayer, party-game, Physics, Relaxing |
| Average session | A few minutes |
| Languages | English, Chinese (Simplified) |
| Inputs | Keyboard, Xbox controller |
| Accessibility | Interactive tutorial, Textless |
| Multiplayer | Local multiplayer |
| Player count | 1 - 4 |
Install instructions
Wired XBox controllers and Keyboard are recommended.
Wireless controllers works in Windows but might have some button mapping problems in Mac platform.
Up-to-4 players with 4 controllers (2 of them can be on one keyboard) connected to the same computer
Player 1 (the first connected player) is the game manager who can interact with the menu.
----------------------------

推荐使用有线XBox手柄或者键盘。
无线的XBox手柄可能在mac上有按键映射问题。
需要将手柄都连接在一台电脑上,如果手柄数量不足,可以使用键盘控制。
第一个连接的玩家可(使用手柄)操纵菜单;在电脑上亦可使用鼠标操作。